BLUE LIZARD CANARY CLUB OPEN SHOW REPORT. 2022
The BLCC held it open show on the 11th of December at Begbroke Village Hall
The club was very pleased to welcome Kevin and Anne McCullam down to judge the show.
There was 40 Blue for Kevin to judge as well as a 32 number of Natural Lizards.
Kevin selected a clear cap blue cock of Stan Boltons as best in show this bird has been doing very well this year. This bird won best champion best clear cap Blue and, also won the Brian Hogg Trophy for best in show. Best Novice went to Colin Wearn with a broken cap blue hen this also won best broken cap blue and best BLCC rung, 2nd best Novice went to Toby Ashpole who also won best Non cap Blue. Other special winners were, Best Broken Cap Blue Stan Bolton with a Broken Cap Blue Cock and best over year Blue also went to Stan Bolton who had yet another good day.
In the Natural lizard classes which again were well supported, Best Natural and best Champion went to tony Horton with a lovely Gold Cock, this bird also took best gold. Tony also won best Natural silver with a silver hen. Best Novice in this section went to Darren Ashpole with an over-year natural lizard. Due to this section being so well supported the club intents to increase the classes for next year's show. This was agreed at the clubs AGM held at the show.
I would like to thank all the members who showed. Also, a special thanks to our Chairman Gary Mann who brought his clubs metal staging down for us to uses this year. But one person I must not forget to thank is Tracy Allen for keeping us all fed and water throughout the day and for the lovely meal, thanks Tracy.
Once again thankyou to Kevin for judging the birds. I look forward to seeing everyone next year, date to be confirmed.
NATIONAL SHOWW REPORT.2019
The BLCC had 70 birds' bench at the 2019 National including Natural lizard classes. The bird was judged by Kevin McCallum. The principle winners we as follow. Best in show was L le Page with a Clear Cap Blue hen with good amount of breast work and spangles and a nice clear crisp cap this bird won best clear cap as well. This is the fourth time Lloyd has who this show he won lasT year 2018 also 2016 & 2015. It is well worth his long trip from the Channel Islands.
Best Novice went to John Topping with a broken cap blue this also won best broken cap
This bird has some really nice spangles. Best Non cap went to Geoff White with a non cap blue hen. Best over -year blue was also won by L le Page with a broken cap over year hen.
In the natural Lizard section, the winners were as follows as in section went to Tony Horton with a really nice silver hen. This bird had really good breast work.
Best gold went to Andy Williamson
This was also the first show where the BLCC used tubular drinkers on the show cages which the club provided. Club secretary asked the judge Kevin McCallum if these had any effect when he was judging the birds. He said he had known problem at all with the tubular drinkers on the cages.
Thankyou to all the exhibitor for showing and look forward to seeing you all again next year and around some of the other shows.
David Allen BLCC secretary.
PHOTO BELOW OF.
DAVID ALLEN'S BEST BLUE LIZARD AT
2014 NATIONAL.
CLEAR CAP BLUE HEN.
[PICTURE SUPPLIED BY S.MARTIN]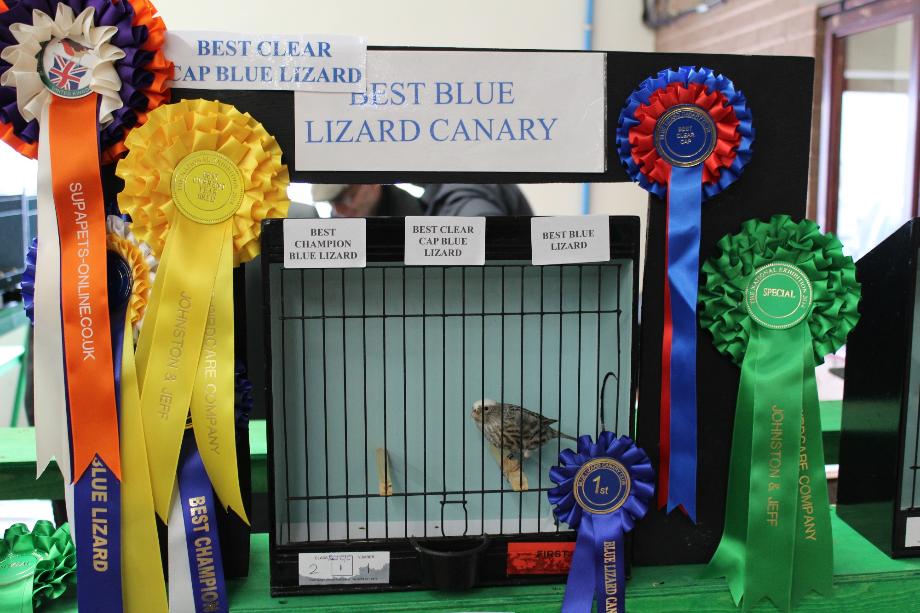 DAVID ALLEN wins the National!!!
S
THE WINNING BLUE LIZARDS AT THE NATIONAL 2011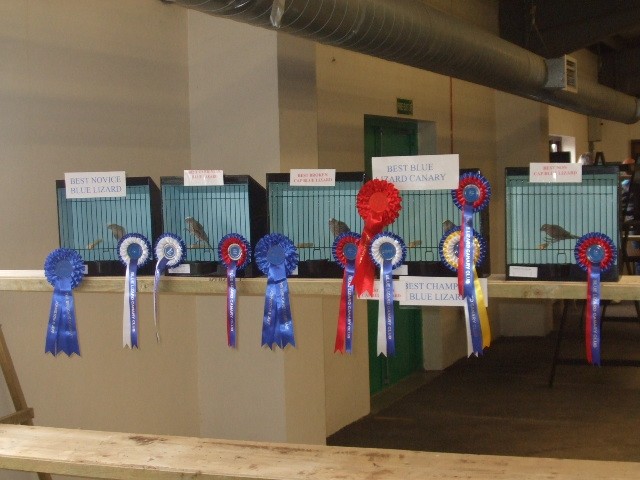 BEST BLUE LIZARD CANARY AT THE NATIONAL BRED BY JOE COAKLEY-CLEAR CAP BLUE HEN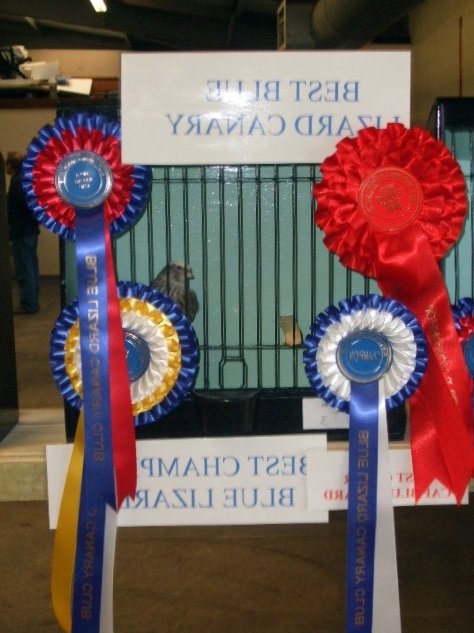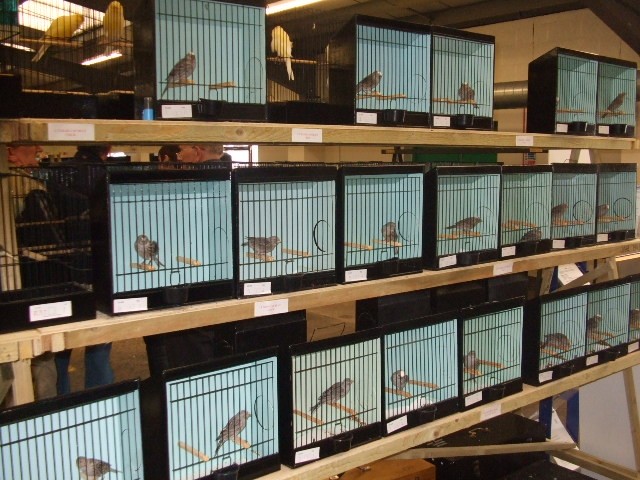 Classes of Blue lizards a thing that was thought not possible 12 months ago. Now we have a club and 3 zone shows and 26 Blue lizard bench at the first show ever to have classes for them. Thankyou to everyone for the effort in making this possible.
The 2nd BLIUE LIZARD CANARY clubs show was held on the 19th of November at The South Bucks Canary Breeders Association show in High Wycombe.
24 Blue lizard were benched with the top award going to Steve Martin with a Nearly Non cap Blue Hen who also won the award for Best novice. beast champion went to Joe coakley with clear cap blue Hen
I would like to thanks Simon Tamman for judging the Blue Lizard. Simon was very impressed with the quality of the over-year Blue Lizards.