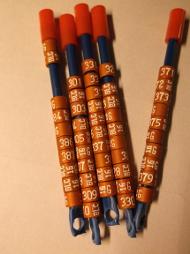 BLCC rings are supplied by Avian ID rings.
AT THE BLCC 2018 AGM IT WAS AGREED THAT ONLY ID CLOSED RINGS WILL BE SUPPLIED. THIS WAS DUE TO THE CLUB NOT SELL ALL THE NON ID RINGS AND THE CLUB INCURRING A LOSS. NON ID RINGS CAN BE ORDERED IF REQUIRED THE PRICE OF ID CLOSED RINGS FOR 2019 WILL £5.00 PLUS £`1.50 P&P
VIA THE SECRETARY THESE RING WILL TAKE A WHILE TO COME THROUGH DEPENDING ON THE SUPPLIERS WORK LOAD SO PLEASE ORDER ID RINGS EARLY.
I would like to thank Avian ID rings for a wonderful service with the ID rings I am getting them to members within a week of the ordering them. super service I think you will agree.
thanks once again Avian ID rings.