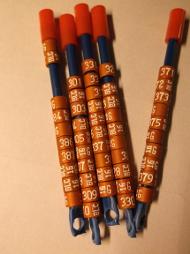 BLCC rings are supplied by Avian ID rings.
2017 RINGS ARE NOW AVAILABLE . THE CLUB IS PLEASE TO TELL MEMBERS THAT CLOSED CLUB RING FOR 2017 ARE NOW AVAILABLE FROM THE SECRETARY. SAME PRICE AS 2016
PRICE £3.50 FOR 10 PLUS £1.50 POSTAGE & PACKING
THE CLUB CAN ALSO SUPPLY ID CODE RINGS [WHICH ARE REQUIRED FOR SHOWING BIRDS IN EUROPE]
THESE MUST BE ORDERED VIA THE SECRETARY THESE RING WILL TAKE A WHILE TO COME THROUGH DEPENDING ON THE SUPPLIERS WORK LOAD SO PLEASE ORDER ID RINGS EARLY.
I would like to thank Avian ID rings for a wonderful service with the ID rings I am getting them to members within a week of the ordering them. super service I think you will agree.
thanks once again Avian ID rings.